【2022.9.8 GIR公開セミナー報告】Dr. Roland Perry "Hatching and survival strategies of cyst nematodes – part of the research legacy of Professor Ishibashi"
イベント報告

2022.9.13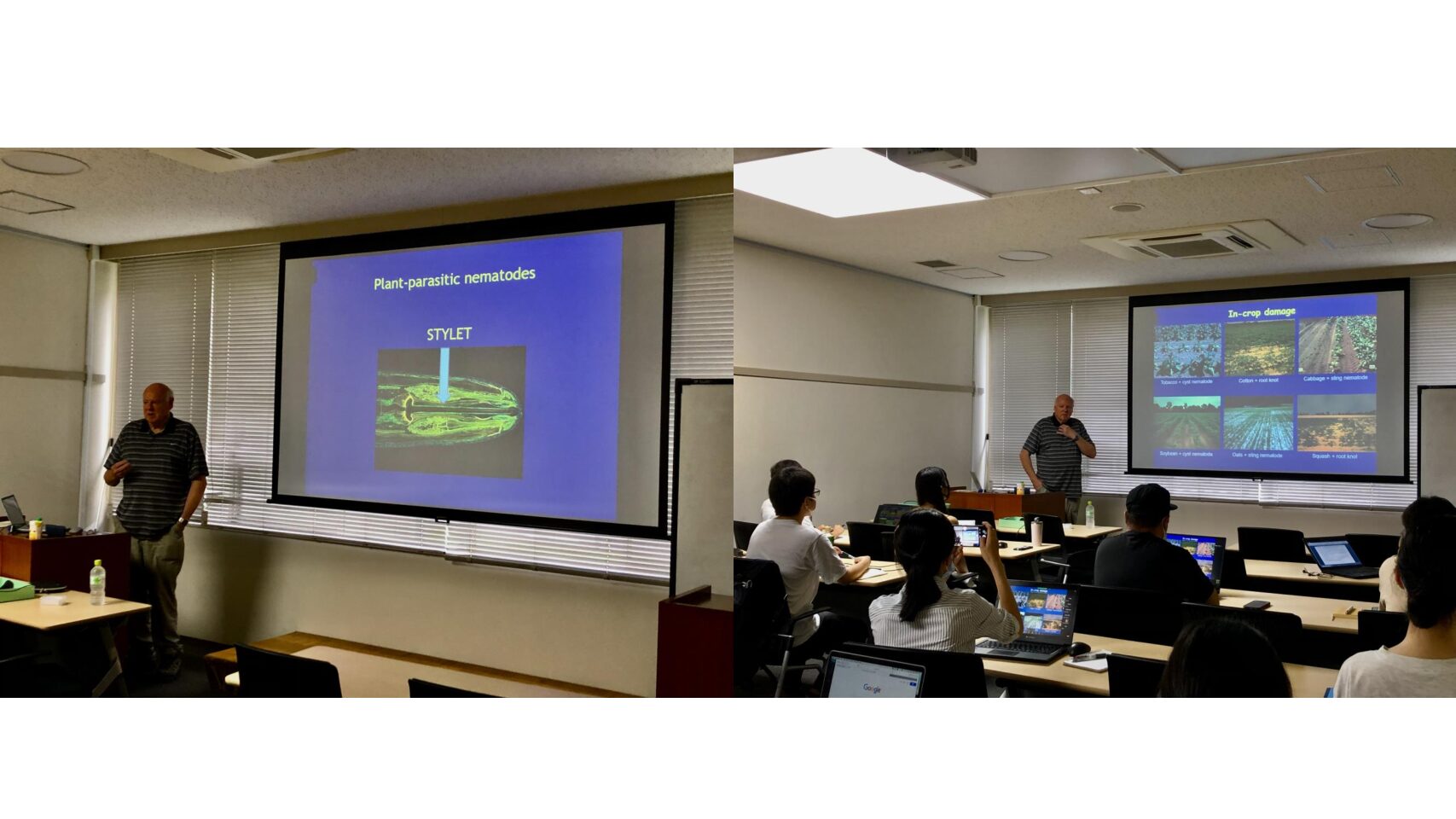 ◆Dr. Roland Perry (英国、ハートフォードシャー大学、客員講師)
◆講演タイトル: "Hatching and survival strategies of cyst nematodes – part of the research legacy of Professor Ishibashi"
◆日時:2022年9月8日(木)
◆会場:東京農工大学 小金井キャンパス BASE本館1階会議室
    Zoom
◆言語:英語
◆開催担当者:豊田 剛己 教授 (グローバルイノベーション研究院 食料分野 豊田ユニット)
◆開催案内
◆参加人数: 18名
講演概要
 Professor Roland Perry obtained a PhD in Zoology from Newcastle University, UK. He is now based at the University of Hertfordshire and is invited as Guest Professor at Ghent University, Belgium. His research interests are focusing on plant-parasitic nematodes, especially on nematode hatching behavior and nematode physiology.
 Professor Roland Perry is co-edited four nematology books. He co-edits the book series Nematology Monographs and Perspectives. He is co-Editor-in-Chief of Nematology and Chief Editor of the Russian Journal of Nematology. He is the author or co-author of over 40 book chapters and refereed reviews and over 120 refereed research papers. In 2001, he was elected Fellow of the Society of Nematologists (USA), Fellow of the European Society of Nematologists in 2008; and Honorary Member of the Russian Society of Nematologists in 2011 for recognition of his research achievements and outstanding contribution to the science of Nematology.
 As part of his visiting activities under GIR collaboration, Prof. Perry gave a speech on "Hatching and survival strategies of cyst nematodes – part of the research legacy of Professor Ishibashi". Firstly, he introduced the nematode in general through an understandable illustration with photos and clear descriptions. The main plant-parasitic nematodes and host plants have also been introduced. Especially, the behavior of hatching of potatoes cyst nematode Globodera spp., Heterodera spp., and root-knot nematodes Meloidogyne spp. have been explained with the focusing on the effects of root diffusion, which releases from host plants. The discussion time has fully explained with some questions from attendance in the room and online. Prof. Yu Yu Min from Yezin Agricultural University, Myanmar has asked for the efficacy of the hatching capacity of nematodes and the avoidance of fungi and bacteria contamination in the bioassay tests under her laboratory conditions. The other questions have focused on the roles of lipid content in eggs and hatched-J2 that relates to the survival of plant-parasitic nematodes before and after their invasion to host plants. Besides, the roles of eggsac and root diffusion in hatching also have been discussed. Finally, the important thing is that the link between the hatching and survival of plant-parasitic nematodes has been explained.